Full Text
I. Brunei's Sharia Reform: Getting the Facts Right
International media coverage exhibited a regrettable lack of knowledge about Brunei and its legal reform.[1] Most journalists approaching me knew close to nothing about Brunei society, its legal landscape, its domestic politics, or the governmentally prescribed national ideology Melayu Islam Beraja (officially translated as "Malay Islamic Monarchy," commonly referred to by its acronym "MIB").[reference_linke 2] This lack of knowledge resulted in the peculiar question, "Why did the Sultan suddenly decide to implement sharīʿa law?" Such ignorance shaped the public debate and fueled frustrated counter-reactions against international protests.[3] Conversely, many, including highly educated, cosmopolitan Bruneians, perceived "our Sultan and sovereignty" to be "under attack." They used hashtags like #BruneiUnited on Instagram and Twitter,[4] and repeatedly indicated that Brunei was being fundamentally misrepresented and misunderstood by the (non-Muslim) world.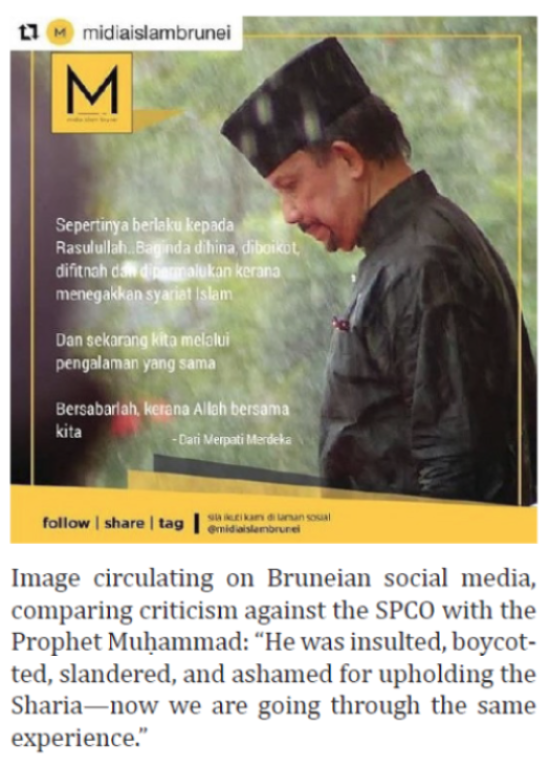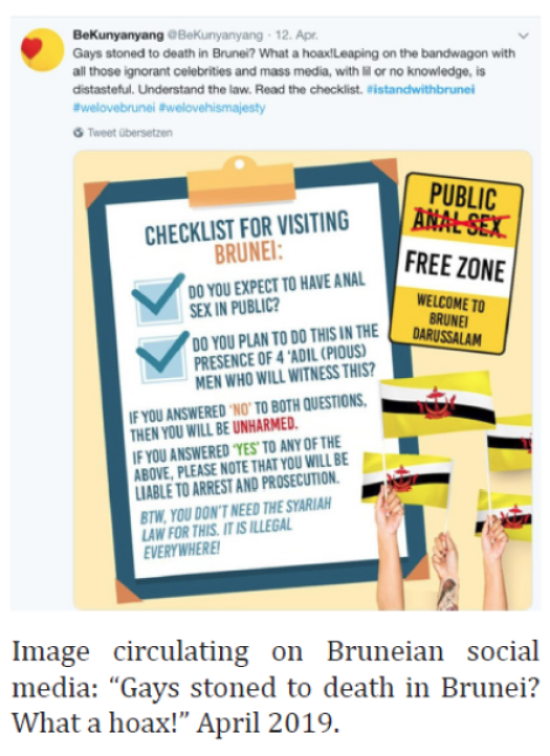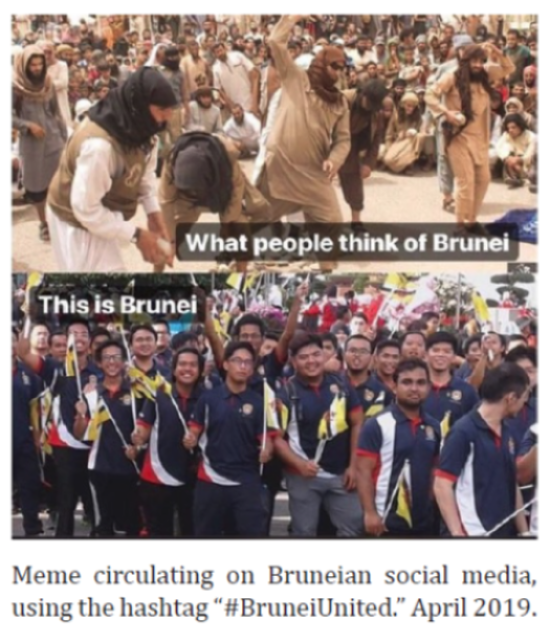 a. A Short History of the Reform, 1996–2013
The legal reform was no sudden decision. Sultan Hassanal Bolkiah first declared on May 19, 1996, that Brunei should have an Islamic penal code. State-Islamic elites have long lobbied for it, behind the scenes and publicly. They have also successfully pushed forward many other "Islamization" policies since the 1990s.[5] In 2011, following a meeting of the authoritative Brunei Islamic Religious Council (Majlis Ugama Islam Brunei (MUIB)) headed by the Sultan, he affirmed the plan, rhetorically asking, "Who are we to say 'wait'?"[6] (much cited[7] by Islamic penal code advocates in neighboring Malaysia), and stressing his duty as ruler of an Islamic state to enforce such a code. He unambiguously stated that "only when Islamic laws are in place...can [Brunei] be called 'baldatun ṭayyibatun wa Rabbun Ghafūr,'[8] or a good nation—we have no option but to obey all of Allah's commandments, this is our highest obligation!" He asked again: "Who are we, in the face of Allah [to say] 'no' or 'wait'?!" and later added, "We cannot wait any longer..., we have the capability (kemampuan) and power (kuasa) to do it!"[9] On October 22, 2013, in another locally very prominent speech, he declared the code's finalization—still largely unnoticed in the international media.
This sentiment was neither new nor idiosyncratic to the person of the Sultan. Prominent state-Islamic advisors, like State Muftī Awang Abdul Aziz bin Juned (a key architect of Bruneian state-Islam), the late Mahmud Seadon Othman (who already in the 1990s proposed to abandon all non-sharīʿa legislation and have an Islamic penal code), and Anwarullah Shafiullah (originating from Pakistan), have always promoted this narrative. They did so mostly behind the scenes (where Islamic policies in Brunei are normally lobbied for, drafted, and introduced "internally..., slowly and quietly"[10]), though they regularly also did so in public and in local Bruneian Malay-language publications.[11] In the absence of an opposition or independent civil society, the Islamic bureaucracy is among Brunei's most powerful political forces.[12] Some wonder whether the absolute monarch controls them, or they control him, and the truth probably lies somewhere in between.
b. Phased Implementation, 2014–2019
On April 3, 2014, implementation of the Syariah (Sharīʿa) Penal Code Order 2013 (SPCO, or Perintah Kanun Hukuman Jenayah Syariah 2013) began, announced to unfold in three stages. In a speech, with key royal family and government members sitting on stage, symbolizing undivided support, the Sultan noted his fulfillment of an unquestionable divine obligation, and said that state-Islamic agencies would now be tasked with implementing the law "with full responsibility."[13] Not only were international media outlets surprised, but also many Bruneians who had not followed Sharia-related royal decrees and discourses before, were caught by surprise.[14] American celebrities, concerned about animus against homosexuals, staged protests at the Beverly Hills Hotel. For example, Fox News TV aired a segment in 2014, using the slogan, "Welcome to the Hotel Sharia—you can check in, but you can never leave."[15] But the media caravan soon moved on.
Phase Two was scheduled to begin twelve months after an additional procedural code had been finalized. The completion of the Syariah Courts Criminal Procedure Code Order (SCCPCO) was initially said in 2014 to take six months. But it was only finalized much later, in March 2018. Some mistakenly speculated about the SPCO's "postponement";[16] others assumed that it was "abandoned" due to international pressure [17] The Sultan, meanwhile, publicly criticized the Ministry of Religious Affairs and Attorney General's Chambers in 2016 for the SCCPCO's slow progress, warning that delays could make the legal reform look "worthless."[18] He repeatedly noted that the world would misunderstand the law, but that its purpose was "not to look left and right in search for anyone who likes or dislikes it, but to fulfill Allah's commandments"[19] (mirroring the State Muftī's long-expressed view that non-Muslims could by definition not "understand Islam" and naturally "oppose" it, implying assumed wider agendas to "colonize" Muslim minds).[20] Throughout this period (2014–2018), Brunei's state-controlled media, and the State Muftī, constantly referred to the SPCO as a symbol of historically deep-rooted national identity and tradition under the "national ideology" of Melayu Islam Beraja (MIB). The daily evening news on Radio Television Brunei (RTB) presented one "beautiful" SPCO section per day to educate the public. Trainings, the establishment of a diploma program in Islamic Criminal Justice at Brunei's Sultan Sharif Ali Islamic University, and preparatory international exchanges took place.[21] The Sultan also noted that the SPCO might create (generally lacking) new jobs for Islamic Studies graduates.[22]
Before 2019, the SPCO's Phase One (Arabic: taʿzīr; Malay: takzir) was applied in some cases, but much fewer than the regular penal code. According to local media reports, a cross-dresser, for example, was sentenced to a monetary fine in 2015,[23] and another cross-dresser was arrested and charged under the SPCO in 2016.[24] In total, 247 Sharīʿa offenses were reportedly prosecuted in the fiscal year 2015–16, none including corporal punishments, as SPCO sections enabling these more severe punishments (ḥudūd/qiṣāṣ) would become enforceable only in Phases Two and Three.[25]
In April 2019, one year after the SCCPCO was presented and thus on schedule, the SPCO's next phase followed. Again, the world was strangely caught by surprise, as indicated by the reactions of representatives from international news media outlets, human rights organizations, and otherwise well-informed parties, and as also indicated by the reactions of many Bruneians, including members of the LGBTQ community as well as government officials working outside of the Islamic bureaucracy (as observed by the author, partly through personal exchanges). But the only real surprise was that Phases Two and Three were enforced together, counterbalancing the SCCPCO's prior delay. The SCCPCO's draft was already near-complete in 2016, and in my personal interviews those involved gave no clear explanation as to why its finalization took two more years. In 2014, the authorities stated that the phased implementation would allow the public to "get used" to the SPCO.[26] This sentiment might partly explain the SCCPCO's delay, as would initially underestimated logistical challenges, and potentially some parties' reluctance to take responsibility—a hiccup to which the monarch himself alluded in his 2016 speech criticizing the delay.[27]
c. International Controversy and the Death Penalty Moratorium, May 2019
The beginning of Phases Two and Three was met by massive international protests. These protests were amplified by the involvement of Hollywood celebrities—which I dub the "Clooney effect" to refer to George Clooney's public stance against the bill.[28] Human rights advocacy groups protested as well.[29] The Brunei Project, run by the Australian human rights activist Matthew Woolfe, has been particularly influential and widely present in different media outlets, having been the first voice in March 2019 to make international audiences aware of Brunei's imminent plans to enforce the SPCO's Phases Two and Three.[30] The European Union in 2019 considered various consequences, and several multinational companies and banks declared publicly they would reconsider their business relations with Brunei.[31]
In response, on May 5, 2019, the Sultan publicly stated what government representatives had long stressed (albeit never said publicly),[32] and what many Bruneians equally assumed: that Brunei's "de facto moratorium on the death penalty" would continue under the SPCO.[33] This statement was not the "dramatic U-turn" that the international media claimed it to be, grounded in their own previous claims about the SPCO.[34] Content-wise, the Sultan's statement was not surprising, but his explicit declaration was. He explained, once again, responding to foreign "misconceptions" ("salah tanggapan"), while clearly aiming to counter massive international pressures targeting Brunei's economic interests.[35]
Even though it did not in fact present a media-proclaimed rupture from past practice, the explicit statement of a moratorium on the death penalty has changed the landscape of controversy surrounding Brunei's new Islamic criminal code. It reduces the risk of the law developing a life of its own in the hands of potentially zealous enforcers. Affected individuals, for example, ex-Muslims or LGBTQ persons, may not feel appeased.[36] The Vancouver-based political refugee Shahiran Shahrani, for example, who faced sedition charges for insulting the Ministry of Religious Affairs over ḥalāl regulations on his private Facebook page, responded that a statement that the Sultan does not explicitly frame as "definite royal decree" is not binding, even if it is made within a royal speech (titah). He called it a "clever complicated ploy" that would leave various options on the table for his successor to the throne. He also pointed to what he considered to be the new law's many other human rights-violating provisions beyond the death penalty.[37]
The moratorium statement was remarkable also considering that the SPCO's key propagator, State Muftī Awang Abdul Aziz Juned, had not long ago criticized earlier (pre-SPCO) calls among state institutions other than his own to formalize the long-existing de facto moratorium into a de jure moratorium.[38] The Muftī expressed this criticism,[39] somewhat ironically, in a book ostensibly about the Sultan.[40]
Furthermore, the Sultan's declaration of such a moratorium now is striking for internal government dynamics in Brunei, considering the Muftī's otherwise extensive powers in any sharīʿa-related policy matters.[41] For two decades, the Sultan appears to have always consented to the recommendations of the Islamic bureaucracy's elites—the SPCO's very existence and design being a case in point. Regrettably, there is no known research on such intra-state dynamics, government institutions' workings behind closed doors, their implications for Islamic policymaking, or their societal consequences. Bruneian government representatives, would, understandably, claim "harmony" and that they share a monolithic, unified stance when they speak to outside audiences (if they speak to them at all). They also customarily adhere to a strict code of secrecy, while state-controlled media provide zero space for any such political analysis. These elements make research on Islam-related (and any other) politics in Brunei a highly challenging endeavor, but they also illustrate an urgent need to enable more grounded and adequate understandings of local developments.
***
Although international media have largely failed to provide any substantial insights, accessing local knowledge about Islamic (or any other) policymaking in Brunei is admittedly a challenging endeavor, as Brunei presents arguably the academically most understudied Southeast Asian country. Rising to the challenge will require a lot of trust-building for foreign scholars and journalists alike, if they/we want to gradually change the current status quo. It will only be possible through respectful epistemic partnerships. For the Brunei government, opening its iron gates at least a little might serve its own interests, as doing so could enable the world to gain a more realistic picture than that of some of the orientalist caricatures that have emerged from the current wave of protests and calls for boycotts or sanctions.
II. Situating Brunei's Sharīʿa Reform: Punitive Turn or the Art of Non-Punishment

Contrary to international media language, Brunei has not recently decided to "implement Sharia Law," in the words of ABC News among others.[42] It has transformed an existing sharīʿa judiciary, which mainly addressed family law, but also presided over criminal offenses in a sharīʿa court under the Religious Council and Kadis Courts Act of 1984 (Akta Majlis Ugama Islam dan Mahkamah Kadi Penggal 77).[43] Codifying and prosecuting sharīʿa offenses in Brunei dates back to Anglo-Muhammadan colonial laws, beginning in the early twentieth century.[44] Before that, an Islamically inspired code, called the Hukum Kanun Brunei, was in place, to which government authorities today questionably refer when claiming that the SPCO would restore a centuries-old Bruneian "tradition" of enforcing Islamic criminal law.[45]
In post-colonial Brunei, the SPCO presents only the latest of many political and legal "Islamization" measures under Brunei's national ideology, Melayu Islam Beraja, that is, of "Malay Islamic Monarchy," as noted above. Since independence in 1984, the government has framed Brunei as a "non-secular" Islamic State (Negara Islam),[46] and as an "MIB State" (Negara MIB).[47] For a century, Islamic legislation (originally called "Mohamedan Law") coexisted with the code inspired by British common law: the so-called Civil Law (Undang-Undang Sivil),[48] which includes the Penal Code of 1951 and which remains in force.[49] The SPCO does not replace this "civil" Penal Code, and the dual system continues to exist,[50] with some "hybridizing" modifications.[51]
The pre-SPCO Sharia offenses varied in scope. Some were sexuality related, others protected the state's exclusive authority to interpret and speak publicly about "authentic" Islam. The pre-SPCO laws outlawed "deviant teachings" (ajaran sesat),[52] and banned pre- and extra-marital sex—both normally resulting in fines (though theoretically punishable with two months' imprisonment).[53] Childbirth outside of marriage was legally framed as resulting in "illegitimate children,"[54] and "disobedient" behavior of wives was pronounced illegal[55]—even though petitioners rarely brought such cases to court. All of these offenses were punishable with milder sentences than the Penal Code offenses, and only applicable to Muslims. Since around 1990, the Civil Law was systematically reviewed to become "sharīʿa-compliant," in accordance with the state-Islamic authorities' interpretation of the sharīʿa.[56] The sale of alcohol and pork was banned in the early 1990s.[57] Even certain royal regalia that the State Muftī considered incompatible with Islam, including two golden cats attached to the throne,[58] were abandoned upon the Sultan's decision.[59] Frequently mentioning these "divine blessings-generating achievements," the State Muftī considers Brunei's Civil Law not as "secular" but as a manifestation of taʿzīr laws, that is, discretionary laws that a legitimate Islamic ruler can define and that are therefore counted as a part of Islamic law, or sharīʿa.[60]
The SPCO presents neither simple continuity nor radical rupture. While it had precursors, it introduces numerous sharīʿa offenses, increases maximum punishments for existing ones, and makes some applicable to non-Muslims.[61] Although international media and protests focus on LGBTQ matters and the amputation of limbs, the SPCO and SCCPCO are multifaceted documents deserving broader analysis that should address larger human rights implications.
Consider the punishment of stoning for sex crimes outlined in the new law. For homosexual or heterosexual anal intercourse and adultery, stoning is the maximum punishment on paper. It applies to Muslims generally, and to non-Muslims if the act was committed with a Muslim (but see Part I, Section C, on the death penalty "moratorium"). Lesbian sex among Muslims is punishable with up to ten years' imprisonment, or a fine, or whipping, or a combination of all three. The SPCO § 69(2a) states that if the procedural requirements for a ḥadd-based (fixed criminal law) death penalty are not met, offenders face up to seven years in prison and thirty strokes. In comparison, the British-originating Penal Code (§ 377) punishes these acts with up to ten years' imprisonment.[62]
Several new offenses are socially oriented. Some include cross-dressing (up to one year or a fine, also for non-Muslims, SPCO § 198), causing a married Muslim woman "to leave the matrimonial home determined by her husband" (SPCO § 201), causing a non-married woman "to leave the custody of her parents or her guardian" (also for non-Muslims, SPCO § 202), parents "giving away" a Muslim child to non-Muslims (SPCO § 204), "indecent behavior" (SPCO § 197), "sorcery" and the advertising thereof (SPCO § 208), murder by sorcery or attempting to do so (SPCO §§ 151–154), and holding traditional presumably deviant beliefs according to which objects possess "healing powers" or "grant wishes" (SPCO § 216) The new law also makes punishable Muslims accusing other Muslims of being infidels (SPCO § 219).
Penalties have increased for some pre-existing offenses. For example, building mosques without permission (previously RCKCA § 124, now SPCO § 240), men not attending Friday prayers (previously RCKCA § 171, now SPCO § 194), and "close proximity" (khalwat) among non-married couples (previously RCKCA § 173; now SPCO § 196) all carry higher maximum punishments.
Particularly remarkable, considering its consequences for both Islamic intellectual reasoning and freedom of thought, conscience, and speech, is how the SPCO further cements the state's exclusive Islamic authority. Questioning ḥadīth considered to be authentic risks punishment that ranges from lengthy prison terms to the death penalty (SPCO §§ 111, 222–224, falling under apostasy and blasphemy charges). Disseminating "beliefs contrary" to the government's interpretation of Islamic law can be punished with up to five years' imprisonment (SPCO § 207), for Muslims and non-Muslims alike, declaring oneself or others to be prophets—Malaysia recently saw such a case (Abdul Kahar Ahmad[63])—risks death, and if the ḥadd punishment conditions are not met, up to thirty years (SPCO § 109). For minorities like the Ahmadiyyah or Bahá'í (long banned and condemned as entirely intolerable by the State Muftī for having prophet-like figures as their founders),[64] this makes their situation even more precarious. Blasphemy risks the same punishments (SPCO §§ 110, 221). Owning or distributing publications contradicting state interpretations of Islamic law carries a punishment of up to two years' imprisonment (SPCO §§ 213–215), as does the public teaching of Islam without a permit (SPCO § 229). Also punishable are issuing "illegal fatwas" (three years' imprisonment, SPCO § 228), and collecting or paying religiously mandated alms/taxes (zakat) outside of state channels (two years' imprisonment, SPCO §§ 237–239). Anyone can be imprisoned for inciting a Muslim to neglect "religious duties" (SPCO § 199). Non-Muslim missionary work targeting Muslims (SPCO §§ 209–211), or telling a Muslim child or a child whose parents have "no religion" to convert to a religion other than Islam, can cause imprisonment (SPCO § 212), as can performing or teaching sharīʿa-violating ceremonies to Muslims (SPCO § 207), or inviting Muslim children to participate in non-Muslim religious activities (SPCO § 212). The government, however, in reaction to protests, repeated its stance that the SPCO is not discriminatory, does not violate anybody's rights, and would protect people's privacy. Many Bruneians wholeheartedly agreed on social media.
It cannot be stressed enough that listing maximum punishments does not do justice to the situation's complexities in light of defendant-regarding procedures. For some offenses, authorities can flexibly decide, case-by-case, whether to apply the SPCO or the old Penal Code.[65] Government representatives have from the start stressed off-record that authorities will avoid using the SPCO, and if they do, they will avoid its harshest punishments, reflecting the laws' "educational" orientation and "Islamic mercy."[66] For apostasy (irtidād), the maximum punishment on paper is stoning, or, if procedural requirements cannot be met, up to thirty years' imprisonment and forty strokes of lashing (SPCO §§ 107–117). But following repentance, the accused must be freed of charges (and, depending on the details of the case, undergo forced "faith counselling") (SPCO § 117, SCCPCO §§ 204–208). Adultery (zinā) and anal sex (liwāṭ) cases (SPCO §§ 68–81, 82–85) require a group of four witnesses of "just" (ʿadil) character who are practicing Muslims and have seen the act (SPCO § 69(1); Syariah Courts Evidence Order 3(1))—an unlikely scenario (see also SCCPCO § 173(1)(i)). In murder (qatl) cases (SPCO §§ 124–164) requiring payment of blood money (diyāt) that the accused cannot afford, the Sultan can pay it (SPCO § 133(3)). Confessions (syahadah) pose a problem but can be withdrawn (SPCO §§ 184–190, and SCCPCO First Schedule, pp. 628–633), and authorities claim they would encourage this. Finally, the Sultan can pardon anyone sentenced to death and reinforce his popular image as a "caring monarch."[67] In short, Brunei's legislation, sharīʿa and non-sharīʿa alike, undeniably includes human rights law-violating and authoritarian stipulations, but the mentioned procedural provisions are a key part of the larger scheme, and are frequently referred to in local counter-discourses against international protests.
Existing criminal laws that preceded the new sharīʿa-based Code are mostly justified by the government on national security grounds, such as the Sedition Act and the Internal Security Act;[68] these laws will continue to be enforced, carrying penalties as harsh as those of the new Islamic laws but without the procedural protections.[69] International attention, however, apparently only arises where tensions with human rights law are linked to the buzzwords "sharīʿa" and "LGBTQ." Bruneians have been sentenced to caning under the non-sharīʿa penal code during the SPCO's first period.[70] Yet this fact was of no interest to international media, whose attention is limited to sharīʿa-based canings. The anthropologist Matthew Erie's notion, made in another context, of the sharīʿa being a "taboo of modern law," comes to mind.[71] Furthermore, the Sultan's speech on the moratorium to the death penalty (see Part I) became peculiarly framed by most international media as declaring the death penalty's non-enforcement "on homosexuals" or "for gay sex,"[72] although he never mentioned this particular type of SPCO offense. Meanwhile various other SPCO sections, as detailed above, stipulate the same penalty but were of no media interest. The logic behind this selective attention deserves further consideration.
There remain questions. Can Brunei realize the "art of not punishing,"[73] which legal historians writing on Islamic criminal law, such as Professor Intisar A. Rabb, show has characterized much of its pre-colonial practice? This is driven by high burdens of proof and the doubt canon—the principle requiring judges to "avoid criminal punishment in cases of doubt."[74] Or will the situation gradually become shaped by the "punitive turn" that the legal anthropologist Michael Peletz observes in neighboring Malaysia's sharīʿa judiciary?[75] These queries remain empirically open questions. Current speculative predictions in either direction tend to be ideological or politically motivated. Time will tell. We must do the work of close research and analysis of Brunei's new laws.